DR. JANE'S SONGS
Click on thumbnails to see full-sized images.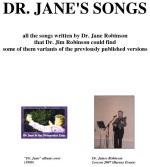 View the cover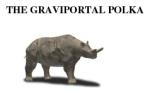 Sample with illos
A compilation of all of Dr. Jane's songs that Dr. Jim Robinson could find in his archives, plus a few that Lee Gold found from other sources, with illustrations. $10 plus shipping. Available as:
Paper songbook Black & White, 85 pages
Home-burned CD (.doc and .pdf, color illos)
List of songs
in the songbook
Dr. Jane's Songs is still available for sale as of June, 2020, and will continue to be available as long as either Lee Gold or Barry Gold is alive and compos mentis.
NOTE: This is a book of lyrics only. There are no voice recordings, MIDI files, or anything else to listen to. Just black marks on real or virtual paper.
Buying...
Price
Weight
Paper songbook
$10
8 oz
CD
$10
3 oz
Paper songbook and CD
$20
11 oz
Paper songbook mailed with a copy of Xenofilkia
$11.50
10 oz
CD mailed with a copy of Xenofilkia
$11.50
6 oz
Paper Songbook, CD, and a copy of Xenofilkia
$21.50
13 oz
Made in my desktop computer; No printing or label on the CD, a simple Avery self-stick label on the jewelbox.
In manila envelope
In jewelbox and bubble wrap mailer.
Shipping cost varies with the weight and destination. Email Lee Gold and tell her what you want to buy and where you live, and she'll tell you how much shipping will cost and how much money to send.

Payment may be made by personal check, cash, or PayPal. Send checks and cash to:
Lee Gold 3965 Alla Rd. Los Angeles, CA 90066
Send PayPal payments to lee.gold@ca.rr.com. (Your payment will be debited the PayPal fee, which is 2.9% plus 30¢, plus an additional 2.2% if your original currency is not US$.)
Do Not send a PayPal payment to Lee as "send money to friends and family. You are paying for goods.
List of Songs in the Songbook
We also have a
Full Table of Contents
for the Songbook.
Ambition

Anthem to Bureaucracy

Aria in Ape-Flat Minor

At the Loch (1994)

At the Loch (1989)

Backbone

A Battle with the Elements

Big, Bad Woman

The Blame Game

Cats Are Not Graceful

Chordata Chorale

Darwin's Story

Digga Digga Bone

The Disappearin' Archosaur Blues

Doo-da-Rock-Rock

Drivel

The Empirical Strikes Back

Everlastin' Outcrop in the Sky

Flea Enterprise

For A While

Fossil Fever

The Graviportal Polka

The Great Cretaceous Hadrosaur Quartet

The Hagfish and the Lamprey

Have a Nice Day

The "I Don't Know It" Blues

I'm Gonna Call It "Brontosaur"

I'm in Love with Attila the Hun

Jam-Packed Crosstown Bus

Joy to the World

Labyrinthodont's Lament

A Look at Things that Don't Exist

The Mesozoic Food Chain Rag

Movin' the Bones

The Muscles of the Kittycat

My Lady's Only Human

My Own Best Friend

Myth-Begotten

Nessie, Come Up

Only Human

The Origin of Life Drinking Song

Out of the Clear Blue Sky

The Overflowing Catbox Blues

The Paleontologist and the Astrophysicist

Petrifaction

Plesiosornithology

Pound Foolish

The Preacher and the Prof

Quetzalcoatlus's Hymn

Sexy Rexy

Sitting' Here Picking My Nose and Thinkin' of You

Song of Jack the Ripper

Song of the Middle Manager

Songs of the Phyla

The Systemantic Classification March

That Everlastin' Outcrop in the Sky

Tyrannosaur's Lullaby

That Everlastin' Outcrop in the Sky

We Can't Find (the Creature in Loch Ness)

What Can I Do?

When Brontosaurs Fall in Love

Who Owns the Bones?
This page maintained by Barry Gold
Last change: January 19, 2020